About Us
Mission Statement
The Art of Compassion is a dynamic community initiative that promotes connections between people and organizations to demonstrate Acts of Kindness. Through the power of the arts, education, and entertainment, the Art of Compassion encourages support and love for others.
The Art of Compassion
The Art of Compassion is a gathering of artists, writers, and storytellers who share a passion for using their creative talents to spread kindness and compassion in the world. Through a series of presentations and workshops, participants explore how the power of storytelling, art, and entertainment can be harnessed to promote education, encouragement, support, and love for others.
The Why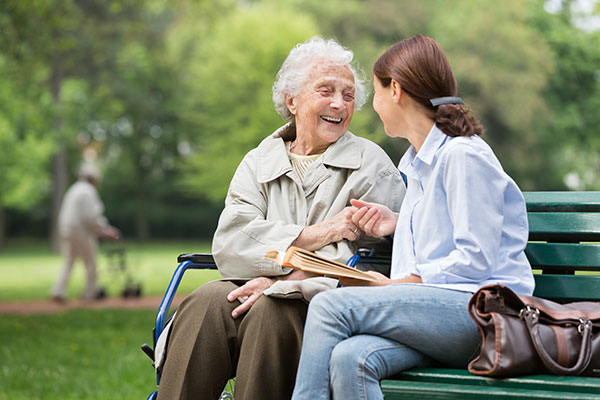 Going Beyond Empathy to Action
We understand that empathy alone is not enough to make a real difference in the world. That's why we go beyond just feeling for those in need and take action to support them. We believe that compassion is about actively doing something to alleviate suffering and improve the lives of others. Through our various programs and initiatives, we strive to create positive change in the world and inspire others to join us in making a difference.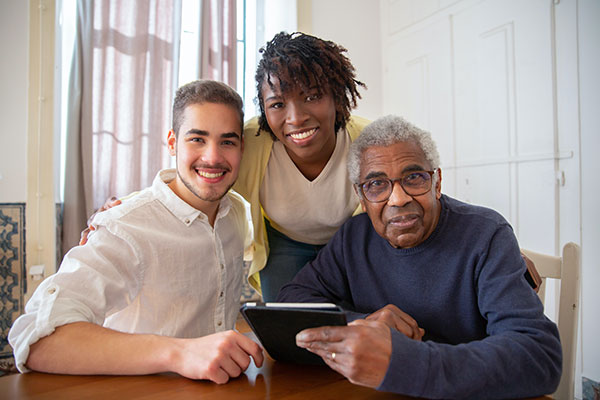 A Community Known for Kindness
We believe that kindness is a powerful force that can transform lives and communities. That's why at The Art of Compassion, we are dedicated to fostering a community known for its kindness and compassion towards others. Through our outreach programs and partnerships, we work to create a culture of empathy and generosity where everyone feels valued and supported. We believe that by spreading kindness and compassion, we can create a better world for all.
Let us not love in word or talk, but in deed and in truth.
I John 3:18
The Impact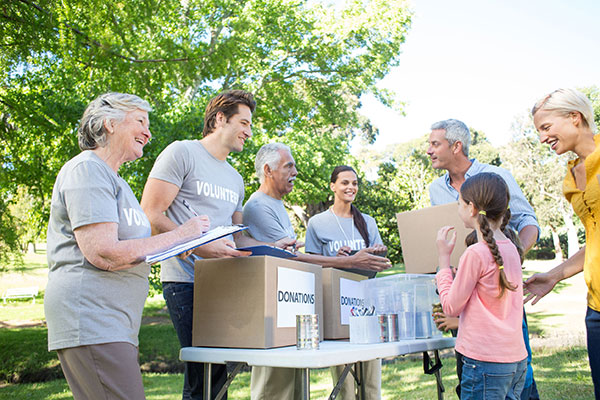 Societal Well-Being
Promoting kindness and compassion is essential for building strong, connected communities. By fostering empathy and promoting acts of kindness, we can create a society where everyone feels valued and supported. Through various programs and initiatives, we can build connections between individuals and communities, which in turn leads to improved societal well-being.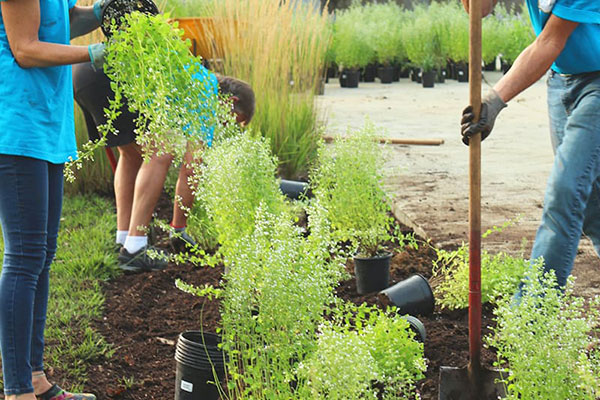 Health and Happiness
Research indicates that individuals who feel connected to their communities are more likely to be healthy and happy. By promoting engagement and participation, we can improve the health and happiness of individuals and communities alike.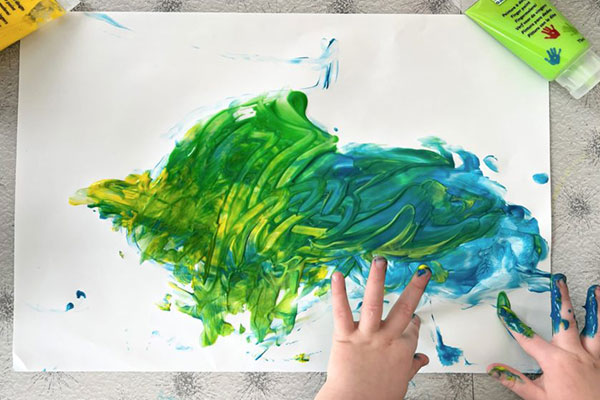 Arts and Education
The arts and education are powerful tools for promoting empathy, creativity, and self-expression. By providing exceptional opportunities for learning and self-expression, we can empower individuals and communities to make positive changes in their lives and the world around them.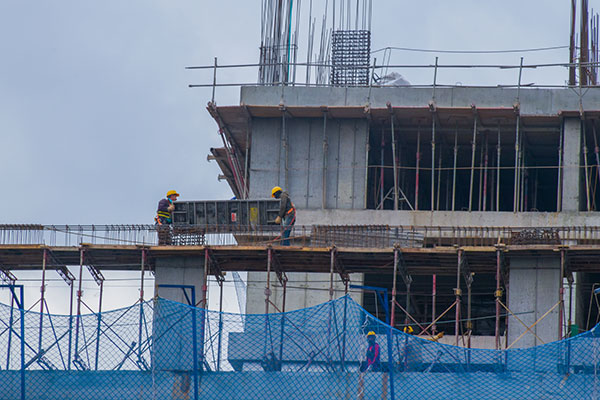 Economy
Compassionate and empathetic communities are more likely to attract tourism and business, leading to positive economic impacts. By promoting a culture of kindness and empathy, we can create a thriving and sustainable economy that benefits everyone.
KINDNESS IS THE LANGUAGE THE DEAF CAN HEAR AND THE BLIND CAN SEE
Mark Twain
Examples to Follow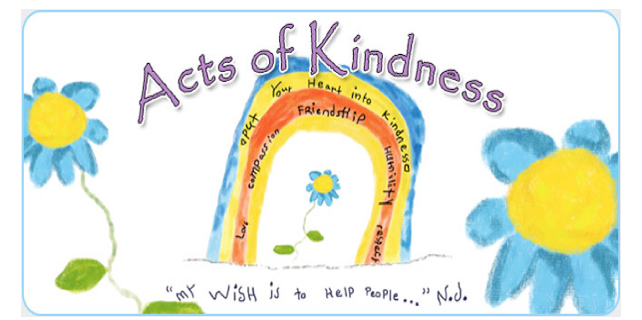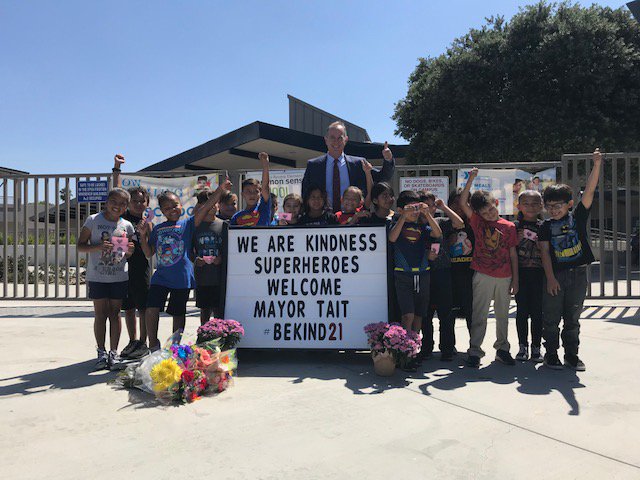 Societal Well-Being
Tom Tait saw pictures of a rainbow's curve with messages of kindness written by a young girl of 6. He was inspired to run for mayor using kindness as a platform that could transform the city and he won.
A city campaign: A "Hi Neighbor" initiative, a community-based program that encourages residents to get to know the people living on their street.
Children were asked to create a million acts of kindness. City and school district noted that suspensions were cut in half, incidents of bullying were down and crime rates also lowered.
All Anaheim schools now have a Serve-a-Thon every Martin Luther King Day. Instead of taking the school holiday off, teachers, administrators, and students come together to do projects such as planting trees or singing at a senior citizens center.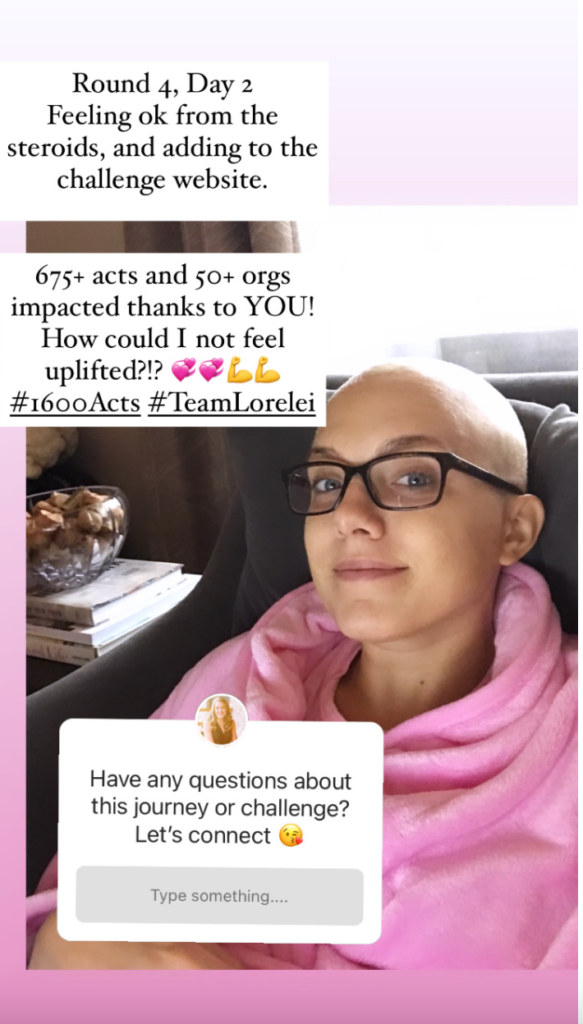 Health and Happiness
Diagnosed with triple negative breast cancer, she created Chemo to Kindness.
For each week of her chemotherapy treatments, she challenged her community to do an act of kindness. She encouraged them to share their acts of kindness on social media using hashtags.
It inspired more than 1,700 acts of kindness and impacted more than 75 organizations worldwide.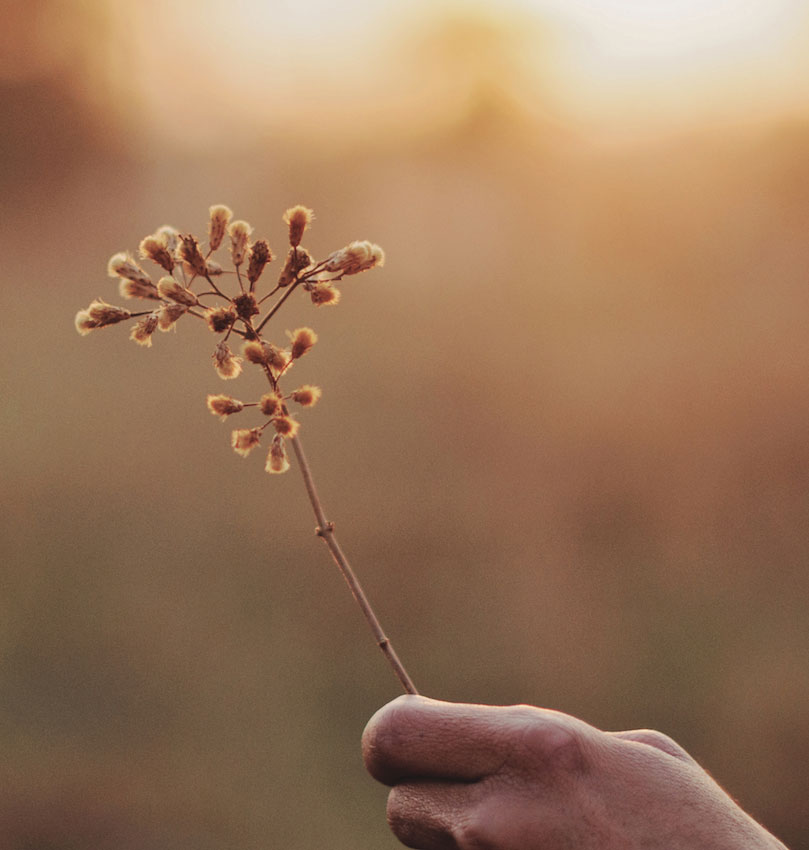 Key Themes
The role of storytelling, art, and entertainment in promoting compassion and empathy
Strategies for using creativity to educate and inspire individuals to create positive change
The importance of providing encouragement and support to those who are working towards a kinder and more compassionate world
Who Should Attend
Artists, writers, and storytellers who are passionate about using their talents for social good
Educators, activists, and community organizers who are interested in harnessing the power of creativity to create positive change
Anyone who is interested in learning more about how art and storytelling can be used to promote compassion and empathy in the world.