Three-Day Symposium of Events at Lenoir-Rhyne University
March 30, 31, April 1, 2022
The Art of Compassion Mental Wellness Forum Guest Speakers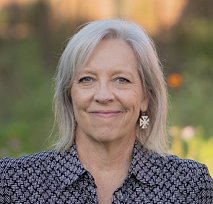 Sandra Boozer, B.S., HTCP is passionate about journeying with individuals to nurture and maximize wellness by tending to the mind, body and soul. She offers Integrative Health Coaching, Healing Touch Therapy, Spiritual Companionship, and yoga to explore, integrate, heal, and reconnect others with their natural state of health and wholeness. In addition to supporting clients at Sun Counseling & Wellness she also serves as part of the Integrative Supportive Oncology team at Levine Cancer Institute in Charlotte, NC.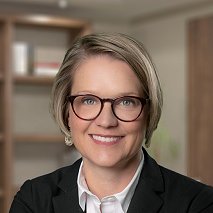 Dr. Jen Neitzel is the Executive Director of the Educational Equity Institute, which is focused on eliminating the educational and opportunity gaps within communities through systems level change. Prior to this work, Jen was a Research Scientist and Technical Assistance Provider at FPG Child Development Institute at UNC-Chapel Hill for 15 years. During her time at FPG, her work focused on implicit bias; disparities in suspensions and expulsions; trauma; and culturally responsive anti-bias practices. Jen presents frequently at state and national conferences and is widely published in peer-reviewed journals. She also is the author of the book Achieving Equity and Justice in Education through the Work of Systems Change.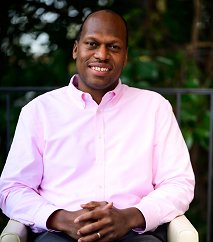 Justin Perry, MSW, LCSW, LCAS, CSI is the founder of Perry Counseling Healing and Recovery PLLC where he specializes in treating individuals who struggle with shame, insecurity, and personal relationships. He has over 15 years of experience working with children, adolescents, and adults who have experienced trauma, and/or are managing mental health and substance use disorders. Perry has provided clinical services at a multitude of mental health and substance use disorder facilities around the greater Charlotte region. He has recently run groups at West Charlotte High School offering support to freshmen and sophomores who need extra support with communication, conflict resolution, and healthy relationship skills. Additionally, he has provided trauma informed training for teachers, administrators, and support staff at various Charlotte Mecklenburg Schools. Perry is a proud Charlotte native and graduate of West Charlotte High School while having been a Student Leader Intern at Charlotte's first Freedom School in 2002. He earned Bachelor of Arts degrees in Psychology and Sociology as well as his Master's in Social Work, all from the University of North Carolina at Chapel Hill.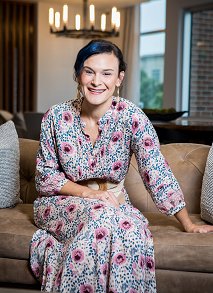 Juliet Kuehnle is a National Board Certified Counselor and mental health therapist who owns Sun Counseling & Wellness, a private practice in Charlotte, NC. She works with individual clients with many presenting concerns, supervises new clinicians, and maintains several side passion projects.
Juliet is on a mission to destigmatize going to therapy and to normalize and elevate dialogue around mental health. It is her passion to help people learn to show up authentically. Juliet is a regular guest and subject matter expert on local news media. She also hosts the popular podcast, "Who You Callin' Crazy?!" that features practical therapy tips and conversations with interesting people you (want to) know.
You can follow her on social media @yepigototherapy for relatable, helpful, and often humorous wisdom.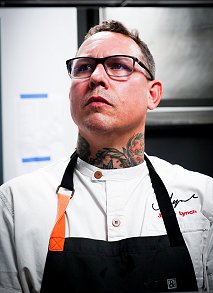 Chef/Partner 5th Street Group
Jamie Lynch's affinity for the restaurant business began when he was 16 years old, working his first job as a dishwasher at a local bar and grill in a Massachusetts fishing town.
"I fell in love with the intense, high-octane kitchen life there," he says. "That's where it all started." A New York native who spent many of his formative years in Massachusetts and Florida, Lynch moved to New Hampshire after graduating high school and began working at a from-scratch Mexican restaurant learning the nuances of cooking. After studying knife skills and how to approach different flavors, Lynch's passion for food was solidified. "It was the only thing that came naturally to me, and that catapulted me into fine food and upscale kitchens."
While attending the New England Culinary Institute in Burlington, Vermont, Lynch completed an externship at Aqua in San Francisco under famed chef Michael Mina. Cooking at Mina's four-star restaurant fueled Lynch's desire to train under the highest caliber of chefs possible. After graduating, Lynch returned to New York City, where he was offered a prestigious position at Le Cirque 2000 in The Palace Hotel. He polished his technique while working under chef Andrew Carmellini, who would become his longtime mentor. Lynch continued his training as a saucier at Charlie Palmer's Aureole before reconnecting with Carmellini at Café Boulud.
Over the course of the next two years, he worked his way through Café Boulud's kitchen before taking a sous chef position at Tocqueville in Union Square. Then, the events of 9/11 brought him down South, forever changing his culinary style. Upon moving to Charlotte in 2002, Lynch worked at Ethan's, a new American bistro, and met farmer Sammy Koenigsberg of New Town Farms. "Seeing his produce, the chickens he was raising and the flavors he was cultivating from the earth just blew my mind," Lynch recalls. "Before I knew it I was spending all my days off there to help. My attention shifted to the product and how it got to the plate."
Lynch's relationship with Charlotte's sustainable farming community and the local dining culture grew from there, and in 2012 he accomplished his dream of starting his own restaurant with the opening of 5Church in the heart of Uptown Charlotte. Lynch has since garnered many accolades, such as Charlotte Magazine's Best Chef award in 2013, 2014 and 2015.Lynch considers himself lucky to be part of the "eclectic bunch" of partners behind 5Church and uses this as inspiration for his food. "I don't stick to one particular type of cuisine; it's more of a hybrid of flavors from all over the world because it's important to me that my menus speak to the diversity of our group," he says. "I try to create dishes that excite the palate and are visually appealing, but I use traditional techniques to tie everything together. "With the opening of the other 5Church location in Charleston, South Carolina he makes his mark in a different markets by offering both signature dishes as well as items that speak to the city's geographical differences, from more meat-centric meals in Charlotte to a larger seafood selection in Charleston. Catering to these local tendencies also enables Lynch to remain true to his philosophy of showcasing the ingredients rather than overproducing them.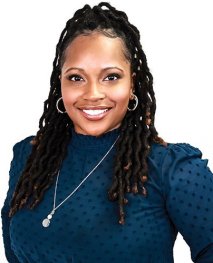 Vernisha Crawford, a former Massage Therapist, earned her Bachelor's Degree in Sociology from UNC Charlotte and a Master's Degree in Leadership from Grand Canyon University. She is a Master Level Certified Professional Life Coach & Community Consultant. She is currently pursuing her Ph.D. in Industrial and Organizational Psychology.
Vernisha specializes in trauma, mental health, resilience, and organizational change, with a knack for entrepreneurship. Her most honorable badge is motherhood, where she gets to learn from and experience her 5-year old daughter every day.
Vernisha is the Founder and CEO of Bringing You Excellence(B.Y.E.), LLC, a national consulting firm that helps organizations become trauma-informed and prioritize wellness. Their mission is to reduce workplace trauma within community-serving and corporate organizations and aims to change how the world views work and wellness.BYE has reached over 100,000 people online, hosted hundreds of conferences and trainings across the country dedicated to strengthening individual resilience, implement trauma-informed approaches within organizations, and build community resilience. BYE has helped secure and manage over $9Million in funding for small grassroot organizations to multi-billion dollar organizations.
Vernisha is also the Founder of BYE Foundation, a 501c3 organization and one of the first grant-making foundations that is taking a trauma-informed approach to funding. BYE is a strong partner of BYE Foundation and has a commitment to donate 10% of our annual revenue to their cause and other organizations that support their work.
Vernisha serves as a member of the Early Childhood Executive Committee at Smart Start, the NC ACES Task Force Advisory Board, NC Juvenile Justice Behavioral Health Committee, and Charlotte Lab School Board. Vernisha also teaches a Criminal Justice course at Belmont University, Vanderbilt University, and Fisk University.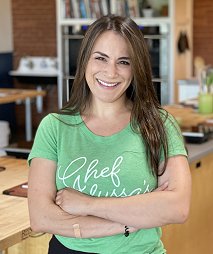 Growing up in Charlotte, NC Chef Alyssa has been involved with cooking nearly her entire life. A 2005 graduate of the Art Institute of Charlotte, Chef Alyssa's professional career has taken her to Italy and several restaurants in Charlotte that range from upscale restaurants, a country club to small intimate dining.  In 2011, she was named the opening Executive Chef of Fern, which was named Best New Restaurant in Charlotte later that year. 
In 2013, Chef Alyssa opened Chef Alyssa's Kitchen inside of Atherton Market in South End. Focusing on using healthy, local and sustainable ingredients Chef Alyssa teaches hands-on cooking classes covering a variety of cuisines and ability levels. 
In 2018, Chef Alyssa expanded into a new facility in lower South End Charlotte to add corporate catering, family table meals and a Saturday brunch to go along with increased cooking classes for adults and kids. She has received numerous awards and recognition on a local and national level along with regular local television appearances.  Chef Alyssa is verified on twitter (@chefalyssaclt).
 Recent achievements 2020, 2021
Food & Wine Magazine and Parade Magazine named Chef Alyssa as one of the top virtual cooking classes in the country.
Partnered with Our State Magazine for a 6 episode cooking show
Selected by ESPN College GameDay as the guest chef in Charlotte
Named a recipient of Top 25 Women in Business from Charlotte Business Journal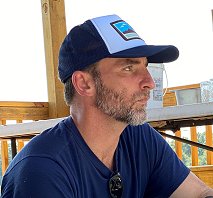 After working his way up the ranks in his family's restaurants in Myrtle Beach and training with other local chefs, Chef Sam Diminich attended the Culinary Institute of America where he graduated with a degree in Culinary Arts. After graduation, Diminich trained under Chef and Owner Georges Perrier at Le Bec Fin in Philadelphia. He then headed back to the South, where's he held various sous chef, executive chef, and management positions at Aspen Grill, Dakota, Table, Vine Kitchen, BLT Steak at Ritz Carlton, Arpa, Cantina 1511, and Lotus. The life of a hard-working journeyman chef was rich with experience and opportunity. It was also rife with risks. He succumbed to the life of alcohol and drug addiction that is so common in the food and beverage business – beer, bourbon, pot, and cocaine. By 2013, he was unemployed and unemployable; he'd lost his job, his car, his wife and children, his home, and most of the clothes on his back. Following a severe beating on the streets of Charlotte in 2014 as a homeless addict, he entered an intensive six month treatment program at Any Length Recovery in Sumter, South Carolina.
After treatment and happily committed to sobriety and the community of recovery, he remained in Sumter where serendipity left him working under Executive Chef Raffaele Dall'Erta at The Hampton's Restaurant. He returned to Charlotte in 2017 and was Executive Chef at Fran's Filling Station, and then Executive Chef at Upstream – taking the venerable Charlotte restaurant to new heights in culinary and hospitality excellence. In 2020, Sam appeared on Beat Bobby Flay on the Food Network, taking down the legendary Chef in an epic battle of Lobster Risotto – just before COVID closed restaurants across America. When he was furloughed, he knew he still wanted to cook, to support the local community, and to know more about the story behind the food. He wanted an opportunity to create a community-wide narrative about the food we eat and the people who provide it. He wanted to go to the farms, to purchase from them directly, learn more about their personal stories, cook the freshest food, cook for the community and keep the farmers and suppliers in the conversation. So, he started cooking and delivering 3-course farm-to-table meals for $30. We call this The COVID Pivot – save yourself and everybody you can get your hands on. Chef Diminich is wildly passionate about working with local ingredients. His approach to food is to honor the ingredients by using sound techniques with a balance of flavors and textures and by blending traditional and contemporary flavors. His goal is to prepare food that brings a celebratory influence to the meal experience as the centerpiece in the story of our lives with our friends and family.
Sam is very open about his sobriety and has found sustaining purpose in sharing his experience as a way of helping others with similar journeys. He is co-leader of the Charlotte chapter of Ben's Friends, a support group offering hope, fellowship, and path forward to those food and beverage professionals who struggle with addiction and alcoholism.
When he is not in the kitchen, Sam enjoys spending time with his two children, Constance and Allan Grey, practicing hot power vinyasa yoga, playing with his dog Sandy, listening to real rock music, and enjoying the natural outdoor beauty of the Carolinas.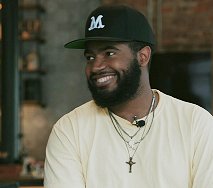 My name is Chayil A. Johnson. I'm 25 years old and I'm the Chef of Community Matters Cafe in Charlotte, NC.
I'm originally from Laplace, Louisiana (part of the greater city of New Orleans), and moved to Charlotte, NC in 2015 to attend Johnson & Wales University where I have my degrees in Culinary arts and Foodservice Entrepreneurship.
I've either been in the industry or taking extensive study of culinary since I was 12, and have a huge heart for giving back to the community through my talent and skill. Especially as a child mentor and tutor, and through my work at Community Matters where I work by training recovering addicts through life skills in a professional kitchen.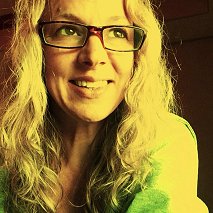 Marianne Huebner, MS-ATR is a licensed art therapist at HopeWay, an evidence-based mental health treatment program for adults and families living with mental illness in the Charlotte region.
A leader in the art therapy field, Marianne has presented nationally on her work, served as president of the Wisconsin Art Therapy Association, and was on the adjunct graduate art therapy faculty at Mount Mary University (Wisconsin). Marianne studied fine art at the University of Wisconsin-Milwaukee, as well as abroad in Florence, Italy; earning her bachelor of fine arts degree. She later earned a master's degree in behavioral science specializing in art therapy.
Prior to joining HopeWay in 2017, Marianne worked to develop and enhance art therapy programs in several settings both here in Charlotte and in Milwaukee, Wisconsin. In Wisconsin, Marianne's area of focus was intentional trauma and she worked with survivors of domestic violence, sexual assault and sexual abuse and then went on to help create programming with perpetrators of violence. This program is still utilized today and has seen remarkable reductions in rates of recidivism. Her work in trauma led to the creation of a program at Children's Hospital of Wisconsin. Originally created to help reconcile trauma in the hospital setting, the art therapy program expanded to all aspects of hospitalization for children and their families, from injury to illness to cancer and bereavement. Programming eventually expanded to reach families at the Ronald McDonald House as well.
Marianne is passionate about her work in art therapy as well as meditation, as she guides the creative process to foster the journey towards healing, reconciliation and hope.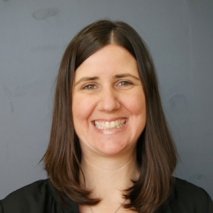 Andrea Skidmore is a Certified Clinical Supervisor, a Licensed Clinical Addictions Specialist, and a Master Addiction Counselor. Andrea currently works at the Anuvia Prevention & Recovery Center in Charlotte, NC where she is the Residential Treatment Director.
Andrea has worked in the education field as a School Counselor, the criminal justice field as a Clinical Case Manager/Counselor/Coordinator, a collegiate instructor, and in the substance use disorder field as a Counselor, Educator and Clinical Supervisor.
The Art of Compassion
Three-Day Symposium of Events
at Lenoir-Rhyne University
March 30, 31, April 1, 2022