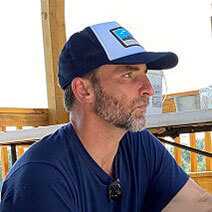 Sam Diminich
After working his way up the ranks in his family's restaurants in Myrtle Beach and training with other local chefs, Chef Sam Diminich attended the Culinary Institute of America where he graduated with a degree in Culinary Arts. After graduation, Diminich trained under Chef and Owner Georges Perrier at Le Bec Fin in Philadelphia. He then headed back to the South, where's he held various sous chef, executive chef, and management positions at Aspen Grill, Dakota, Table, Vine Kitchen, BLT Steak at Ritz Carlton, Arpa, Cantina 1511, and Lotus. The life of a hard-working journeyman chef was rich with experience and opportunity. It was also rife with risks. He succumbed to the life of alcohol and drug addiction that is so common in the food and beverage business – beer, bourbon, pot, and cocaine. By 2013, he was unemployed and unemployable; he'd lost his job, his car, his wife and children, his home, and most of the clothes on his back. Following a severe beating on the streets of Charlotte in 2014 as a homeless addict, he entered an intensive six month treatment program at Any Length Recovery in Sumter, South Carolina.
After treatment and happily committed to sobriety and the community of recovery, he remained in Sumter where serendipity left him working under Executive Chef Raffaele Dall'Erta at The Hampton's Restaurant. He returned to Charlotte in 2017 and was Executive Chef at Fran's Filling Station, and then Executive Chef at Upstream – taking the venerable Charlotte restaurant to new heights in culinary and hospitality excellence. In 2020, Sam appeared on Beat Bobby Flay on the Food Network, taking down the legendary Chef in an epic battle of Lobster Risotto – just before COVID closed restaurants across America. When he was furloughed, he knew he still wanted to cook, to support the local community, and to know more about the story behind the food. He wanted an opportunity to create a community-wide narrative about the food we eat and the people who provide it. He wanted to go to the farms, to purchase from them directly, learn more about their personal stories, cook the freshest food, cook for the community and keep the farmers and suppliers in the conversation. So, he started cooking and delivering 3-course farm-to-table meals for $30. We call this The COVID Pivot – save yourself and everybody you can get your hands on. Chef Diminich is wildly passionate about working with local ingredients. His approach to food is to honor the ingredients by using sound techniques with a balance of flavors and textures and by blending traditional and contemporary flavors. His goal is to prepare food that brings a celebratory influence to the meal experience as the centerpiece in the story of our lives with our friends and family.
Sam is very open about his sobriety and has found sustaining purpose in sharing his experience as a way of helping others with similar journeys. He is co-leader of the Charlotte chapter of Ben's Friends, a support group offering hope, fellowship, and path forward to those food and beverage professionals who struggle with addiction and alcoholism.
When he is not in the kitchen, Sam enjoys spending time with his two children, Constance and Allan Grey, practicing hot power vinyasa yoga, playing with his dog Sandy, listening to real rock music, and enjoying the natural outdoor beauty of the Carolinas.