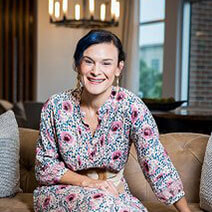 Juliet Kuehnle
Juliet Kuehnle is a National Board Certified Counselor and mental health therapist who owns Sun Counseling & Wellness, a private practice in Charlotte, NC. She works with individual clients with many presenting concerns, supervises new clinicians, and maintains several side passion projects.
Juliet is on a mission to destigmatize going to therapy and to normalize and elevate dialogue around mental health. It is her passion to help people learn to show up authentically. Juliet is a regular guest and subject matter expert on local news media. She also hosts the popular podcast, "Who You Callin' Crazy?!" that features practical therapy tips and conversations with interesting people you (want to) know.
You can follow her on social media @yepigototherapy for relatable, helpful, and often humorous wisdom.