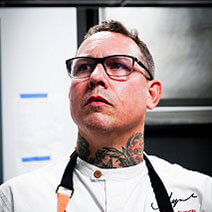 Jamie Lynch
Jamie Lynch's affinity for the restaurant business began when he was 16 years old, working his first job as a dishwasher at a local bar and grill in a Massachusetts fishing town.
"I fell in love with the intense, high-octane kitchen life there," he says. "That's where it all started." A New York native who spent many of his formative years in Massachusetts and Florida, Lynch moved to New Hampshire after graduating high school and began working at a from-scratch Mexican restaurant learning the nuances of cooking. After studying knife skills and how to approach different flavors, Lynch's passion for food was solidified. "It was the only thing that came naturally to me, and that catapulted me into fine food and upscale kitchens."
While attending the New England Culinary Institute in Burlington, Vermont, Lynch completed an externship at Aqua in San Francisco under famed chef Michael Mina. Cooking at Mina's four-star restaurant fueled Lynch's desire to train under the highest caliber of chefs possible. After graduating, Lynch returned to New York City, where he was offered a prestigious position at Le Cirque 2000 in The Palace Hotel. He polished his technique while working under chef Andrew Carmellini, who would become his longtime mentor. Lynch continued his training as a saucier at Charlie Palmer's Aureole before reconnecting with Carmellini at Café Boulud.
Over the course of the next two years, he worked his way through Café Boulud's kitchen before taking a sous chef position at Tocqueville in Union Square. Then, the events of 9/11 brought him down South, forever changing his culinary style. Upon moving to Charlotte in 2002, Lynch worked at Ethan's, a new American bistro, and met farmer Sammy Koenigsberg of New Town Farms. "Seeing his produce, the chickens he was raising and the flavors he was cultivating from the earth just blew my mind," Lynch recalls. "Before I knew it I was spending all my days off there to help. My attention shifted to the product and how it got to the plate."
Lynch's relationship with Charlotte's sustainable farming community and the local dining culture grew from there, and in 2012 he accomplished his dream of starting his own restaurant with the opening of 5Church in the heart of Uptown Charlotte. Lynch has since garnered many accolades, such as Charlotte Magazine's Best Chef award in 2013, 2014 and 2015.Lynch considers himself lucky to be part of the "eclectic bunch" of partners behind 5Church and uses this as inspiration for his food. "I don't stick to one particular type of cuisine; it's more of a hybrid of flavors from all over the world because it's important to me that my menus speak to the diversity of our group," he says. "I try to create dishes that excite the palate and are visually appealing, but I use traditional techniques to tie everything together. "With the opening of the other 5Church location in Charleston, South Carolina he makes his mark in a different markets by offering both signature dishes as well as items that speak to the city's geographical differences, from more meat-centric meals in Charlotte to a larger seafood selection in Charleston. Catering to these local tendencies also enables Lynch to remain true to his philosophy of showcasing the ingredients rather than overproducing them.