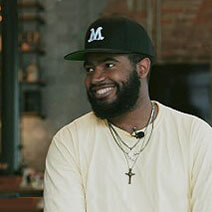 Chayil Johnson
My name is Chayil A. Johnson. I'm 25 years old and I'm the Chef of Community Matters Cafe in Charlotte, NC.
I'm originally from Laplace, Louisiana (part of the greater city of New Orleans), and moved to Charlotte, NC in 2015 to attend Johnson & Wales University where I have my degrees in Culinary arts and Foodservice Entrepreneurship.
I've either been in the industry or taking extensive study of culinary since I was 12, and have a huge heart for giving back to the community through my talent and skill. Especially as a child mentor and tutor, and through my work at Community Matters where I work by training recovering addicts through life skills in a professional kitchen.